Buying Timeshare in Lanzarote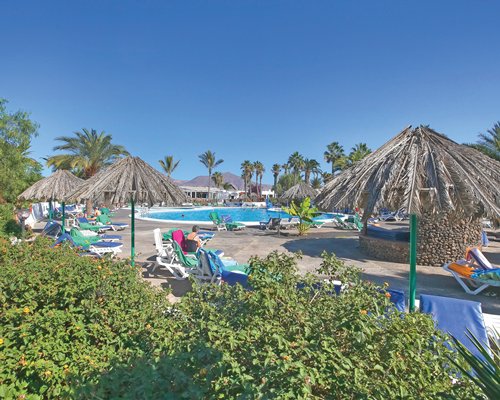 This island has a stark beauty. The volcanic moonscape is most vivid in the island's centre, while to the north there's a gentle greenness. The south is home to the best beaches, while throughout the island Cesar Manrique demonstrates how man can work with nature with extraordinary results.
The easternmost island of the Canaries, Lanzarote is located less than eighty miles off the coast of Africa, which makes it the ultimate year-round holiday destination. Volcanic eruptions that took place as recently as the eighteenth and nineteenth centuries have resulted in a famous 'lunar' landscape that is spectacular to behold.
In addition to these volcanic wonders, there are numerous white sandy beaches for holidaymakers to enjoy, including Playa Blanca and Caleton Blanco. Numerous water sports activities are available in various parts of the island, such as board-surfing and wind surfing, along with catamaran excursions for those who wish to take a more relaxed approach. Another popular attraction is Timanfaya Mountain, where you can see water being poured into the ground and coming straight back as steam. Activities suitable for the whole family include a zoo in Guinate, the market in Teguise, and restaurants throughout the resort of Puerto del Carmen.
Access to the island is easy with direct flights from many locations. Timeshare resorts are plentiful, and with local restrictions prohibiting the building of high-rise structures and billboard advertising, more often than not you'll be guaranteed stunning views of sunrises, sunsets, and the sparkling waters of the Atlantic Ocean.
Buying timeshare in Lanzarote can be considered an investment in your time on holiday or abroad. Whether you are looking to buy timeshare in Lanzarote for use as a holiday home or while on business trips you will find a wide range of luxury hotels and resorts to choose from such as:-
Timeshare Hotels and Resorts in Lanzarote
Buying a Timeshare Resale in Lanzarote is Easy, Safe and Secure
Travel & Leisure Group strictly adhere to both UK and European government legislation covering the sale of resale timeshare and we are long-standing members of RDO (Resort Development Organisation) and ARDA (American Resort Development Association) for your peace of mind.
With prices starting from £995, there has never been a better time to purchase a property in Lanzarote and experience the luxury that timeshare has to offer. Click here for more information about buying timeshare.
For more information on buying timeshare in Lanzarote,
call now on 0800 071 4674
or use our Buying Timeshare Enquiry Form.
Selling Timeshare in Lanzarote
Have you ever asked yourself "How do I sell my Timeshare in Lanzarote?", you will find it couldn't be easier. Travel And Leisure Group have been selling timeshare in Lanzarote for many years and have built a second-to-none reputation within the industry.
There are many people looking to buy timeshare in Lanzarote and their first stop will be a reputable timeshare broker such as ourselves.
If you currently own a timeshare in Lanzarote and are considering selling it, then make Travel & leisure Group your first and last call. We can register your timeshare on our books absolutely free of charge. For more information on selling your timeshare, click here.
For more information on selling timeshare in Lanzarote,
call now on 0800 071 1372
or use our Free Valuation Form.
Renting Timeshare in Lanzarote
Many people find renting a timeshare in Lanzarote is a good option before buying a timeshare there. Choosing to rent a timeshare gives people a chance to inspect a property they may be considering to buy into. You will find many of our clients looking to sell their timeshare in Lanzarote also choose to put it up for rent. We have many owners who choose to rent their timeshare as they are unable to use it but wish to keep it as an investment. For more information about timeshare rentals click here.
For more information on renting timeshare in Lanzarote,
call now on 0800 071 4674
or use our Renting Timeshare Enquiry Form.
Related Articles
No articles found.

Prev Page | Next Page